So, did any of the three remaining Beatles go to John Lennon's funeral?
No, none of The Beatles attended John's funeral because there was no formal funeral for the musical icon.
On December 8, 1980 the world felt shocked as John Lennon was shot five times while in the entranceway to The Dakota in New York City, where he lived with his wife Yoko Ono and their young son Sean. He was killed by Mark David Chapman, a troubled obsessed fan from Hawaii.
Though rushed to the hospital, Lennon died en route. According to the police with him at the time, his last words were, "I'm shot. Yeah." For a man who was the voice of a generation, this was a shocking way to go.
At this point, The Beatles had been broken up for around a decade. Though a turbulent breakup, it has been reported that Lennon was back on friendly terms with his bandmates, even McCartney by the time Chapman appeared in front of him.
Many people ask did The Beatles go to John's funeral? For those who are fans, they want to know there was a reconciliation between their beloved group. Those beginning their fandom may only know the legacy of their rise and fall and have no clue how poignant the question is.
It may seem strange to many, but this giant of the music industry had no public funeral. Per the wishes of the ever eccentric Yoko Ono, there was no official service and no grave that could draw in obsessed fans' craziness.
See our post "Yoko Ono and The Beatles"
The Wishes Of The Widow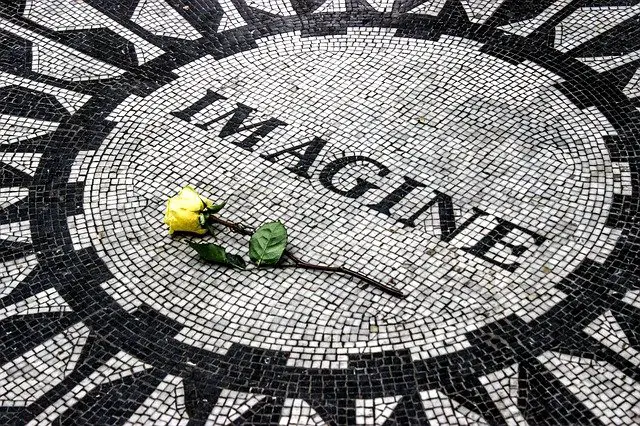 Yoko Ono had long been the bane of the "Fab Four's" long-term, devoted fans. True or not, many of them believed that she had been the main cause to the band's breakup, which led many to resent her and even wish her away in their heads.
Ono was with her husband, the then 40-year-old Lennon, the night he was shot. They were walking into The Dakota after a night out.
After he died, she was quick to release her statement. She declared that Lennon had always loved the human race and prayed for them – and she called for them to express their grief doing the same.
She announced that there would be a vigil for him, for anyone anywhere to stop and pray or meditate for her beloved John. However, there was no official service and no official memorial. Just an approximately ten-minute silent vigil later on the same week he died.
His older son, Julian Lennon, with Johns first wife, Cynthia Powell, was reportedly invited to the vigil with Yoko and Sean, but only if he attended it without his mother. At 17, he was not prepared to do that and therefore was not at the vigil
Where Is John Buried
Again here, there is no answer because John was not buried. John was cremated, and then his ashes were turned over to Yoko Ono. She did not bury them, nor did she ever reveal where they were spread, if they were at all.
According to many reports, for years, Ono kept the urn under her bed, on the side of the bed that John slept on. Many say she still does.
If fans want to pay their respects, Yoko Ono had a small plot of land set-up with a memorial to Lennon's legacy. It is located on property adjacent to The Dakota, where Lennon died, and where they lived together happily at the time of his death.
The memorial is beautiful, a stone mosaic of art on the ground. It is known, fittingly, as Strawberry Fields.