The Beatles and Eric Clapton first met in December 1964 whilst his band at the time, The Yardbirds, were supporting the fab four at London's Hammersmith Odeon. This was the starting point for a long-lasting relationship which saw Eric recording with The Beatles, nearly joining the band and even swapping wives with George.
A First Meeting and That Famous Recording
The concerts at London's Hammersmith Odeon ran from late December into the middle of January 1965 and were a combination of musical and comedy acts, with the Yardbirds featuring in the middle of the card and the Beatles headlining. This was the start of Eric Clapton's relationship with the Beatles, in particular, his close friendship with George Harrison.
Eric Recorded on the White Album
Eric has appeared on a Beatles track, having been asked by George to appear on one of his songs for the White Album, called 'While My Guitar Gently Weeps'. The background to this and the nervousness of Eric are an interesting story by themselves.
The recordings at the time were not going well, tensions were high in the band and when George first put forward the song it was not well received. He went home frustrated because he believed so much in the track and so he called on his close friend Clapton to play on the track, ultimately performing a guitar solo.
Eric Was Incredibly Nervous About The Session
Eric Clapton was nervous about joining the session, as he once said, he had never heard of a guest soloist at a Beatles recording and didn't want to be the first! George describes Eric as 'really nervous' about even going to the studio. Bringing Eric did work, as the other Beatles were all on their best behaviour with him in the room.
In George's opinion, this was a good development for the Beatles, proving that bringing in great musicians could help Beatles recordings and led to George introducing Billy Preston the following year during the Let It Be recordings.
In the final production of While My Guitar Gently Weeps that appears on the White Album, Eric Clapton plays lead guitar, with George on vocals & guitar, Paul McCartney on piano & bass and Ringo Starr on drums. John Lennon wasn't at this recording session, so doesn't appear on the track.
It means that Eric never technically played with the complete Fab Four. However, he did go on to play individually with all members of the band in some format.
Was Eric Clapton Ever Invited to Join the Beatles?
Let us look at the most important interaction between Eric Clapton and the Beatles, the rumours that at one-point Eric Clapton was asked joined the Beatles, in fact, as a replacement for his close friend George Harrison.
Eric Nearly Replaced George
The story goes that George Harrison quit the Beatles on 10th January 1969, walking out of the studio and leaving John Lennon, Ringo Starr and the filmmaker Michael Lindsey-Hogg behind. What follows was actually all recorded, because at the time the Beatles were filming their sessions for what would eventually become the film 'Let It Be', released in 1970.
John Lennon was the person to first suggest that if George didn't come back 'by Monday or Tuesday' then they should ask Eric Clapton to join the band for the remaining live performances they were recording.
It actually prompted Ringo Starr to ask why Eric had left Cream (his last band before embarking on a solo career), to which John comments that they were all 'soloists' and that's why Eric left, although he felt he would be happy to join the Beatles.
The final word on this exchange went to Michael Lindsey-Hogg, who said that if George wasn't back by Tuesday they should indeed get Clapton, although clearly, his opinion was not important in that conversation as neither a band member nor part of Beatles management. After this, they went back to recording work and the topic was never actually discussed again, with George returning to the group.
Most assume this was a classic example of John Lennon letting off steam and making grand pronouncements, probably intending to ensure George heard and would come back to the band. The information did get back to Eric Clapton because he has commented on it in later life.
In 1998 he talked about how he heard that it was a possibility in January 1969 but that no one ever officially asked him. He goes on to talk about the importance of his relationship with George Harrison and as a result, he could never have bought into the idea, because he was 'too much a mate of George's'.
But why Eric Clapton?
Eric Clapton is one of the greatest guitarists of all time, as a solo artist, part of the Yardbirds, Derek and the Dominos and as a member of Cream. He is the only person to be inducted into the Rock n Roll Hall of Fame on three separate occasions, as both a solo artist and as a member of some of these historic bands.
Eric was listed second in the Rolling Stones list of the 100 Greatest Guitarists of All Time and fourth in Gibson's Top 50 Guitarist of All Time.
His rise to fame begins in the mid-60s, at the height of Beatlemania and his own story crosses with the Fab Four multiple times. Over the years he built an incredibly strong bond and relationship with George Harrison, but what was the relationship like between The Beatles and Eric Clapton?
An Enduring Relationship
The strongest relationship between Eric Clapton and any members of the Beatles is his bond with George Harrison.
Some of the quotes he has said about George show this, talking about developing a relationship with George exclusive of the rest of the Beatles.
Eric Married George's First Wife – Pattie Boyd
The biggest link between Eric Clapton and George Harrison is Pattie Boyd, George's first wife and subsequent wife of Eric over 10 years later. For most, this would have meant the end of any close friendship, but not Eric and George.
The strength of the bond between Eric and George was so good that not only did they remain good friends after Eric married Pattie, but George was at his wedding and often jokingly referred to Eric as his 'husband-in-law'!
Eric became obsessed with Pattie whilst she was still married to George, something not really noticed by George initially.
Eric Also Dated Pattie's Sister
Eric dated Pattie's sister for a while and tried on several occasions to build a relationship with Pattie. It is speculated that her continual rejection is what led him to depression and heroin addiction and it is only after he cleans himself up that she finally agrees to date him.
The Beatles (minus John) Played 'Badly' at Eric's Wedding To Pattie
As an indication of the close relationship Eric had with all the band, Paul McCartney, George and Ringo Starr all performed together at Eric's wedding to Pattie, 10 years after the Beatles formally split, John unable to attend as he was in America at the time.
Whilst some that attended have described the performance as poor, partly due to George being very drunk, it is still a significant moment in Beatles history and shows their close ties with Eric.
Eric's Special Relationship With George
If further evidence of their unique and special relationship was needed, you only need to look at one of the pivotal songs in George's career, Something. A track he wrote for his then-wife Pattie, he subsequently played on multiple times in live performances, with her new husband, Eric Clapton.
George even wrote a track specifically for Eric, which appears on the White Album, called 'Savoy Truffle', all about Eric's issues with eating too many sweets and subsequent problems with his teeth. He sings about having all his teeth pulled out despite the 'good news' that eating the chocolates can bring.
As George mentions, Eric couldn't see a box of chocolates without wanting to eat them and it was one of those boxes when Eric was at George's house, a box of 'Good News' chocolates, that inspired many of the chocolates mentioned in the song, like creme tangerine and coconut fudge.
They collaborated many times over the years, for example when Eric was struggling to produce a track for the final Cream album, Goodbye, he turned to George for help and they co-wrote the song 'Badge' together. The title comes from when the word 'bridge' was written and Eric read this upside down and asked what 'badge' was all about!
George even called on Eric when he was working on other people's projects. In 1969 George was producing the fourth Billy Preston album and asked Eric to participate and his performance on the title track, That's The Way God Planned It, is a powerful contribution.
George actually wrote 'Here Comes The Sun', potentially his most famous and notable Beatles track, whilst staying at Eric's country home, where he was hiding for a day because he was looking to avoid all the business that was behind the Beatles, signing contracts, talking to accountants at Apple etc…
Even after George died in 2001, their relationship shines through. Eric asked George's wife Olivia if he could do something to honour George, leading to a concert he organised at London's Royal Albert Hall. As Olivia said herself, 'Eric was a very deep friend of George's, so I felt confident and relieved it was Eric coming to me'.
Eric Clapton and John Lennon
John Lennon's relationship with Eric comes very much from a musical admiration and his desire to want to play with Eric Clapton. As mentioned earlier, John once pondered Eric joining the Beatles during a short absence of George Harrison, but it was a story around Eric's participation in the Plastic Ono Band that shows the high esteem John holds Eric in.
Eric played in a live performance with the Plastic Ono Band in Toronto and the performance was so good it has gone down in music legend, as well as inspiring John to desperately try and get Eric to join him in a super band and to go on a very unusual world tour on a cruise ship!
John's Famous Letter to Eric
In a letter he drafted to send to Eric, John wrote over 8 pages about how he felt he could get the best from Eric and that he had long admired his music and kept an eye on what he was up to. He goes on to talk about 'revolutionary' ways of presenting shows and about sharing their views with the world through music.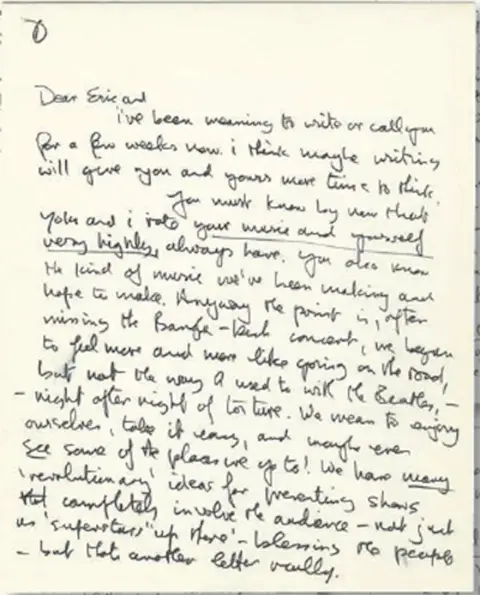 "Dear Eric and

I've been meaning to write or call you for a few weeks now. I think maybe writing will give you and yours more time to think.

You must know by now that Yoko and I rate your music and yourself very highly, always have. You also know the kind of music we've been making and hope to make. Anyway, the point is, after missing the Bangla-Desh concert, we began to feel more and more like going on the road, but not the way I used to with the Beatles—night after night of torture. We mean to enjoy ourselves, take it easy, and maybe even see some of the places we go to! We have many 'revolutionary' ideas for presenting shows that completely involve the audience—not just as 'Superstars' up there—blessing the people—but that's another letter really.

I'll get more to the point. We've asked Klaus [Voormann], Jim Keltner, Nicky Hopkins — Phil Spector even! to form a 'nucleus' group (Plastic Ono Band)—and between us all would decide what—if any—augmentation to the group we'd like—e.g. saxs, vocal group, they all agreed so far—and of course we had YOU!!! in mind as soon as we decided.

In the past when Nicky was working around (Stones, etc.) bringing your girl/woman/wife was frowned on—with us it's the opposite, Nicky's missus—will also come with us—on stage if she wants (Yoko has ideas for her!)—or backstage. Our uppermost concern is to have a happy group in body and mind. Nobody will be asked to do anything that they don't want to, no-one will be held to any contract of any sort—(unless they wanted to, of course!).

Back to music. I've/we've long admired your music—and always kept an eye open to see what you've been up to lately. I really feel I/we can bring out the best in you—(same kind of security, financial or otherwise will help) but the main thing is the music. I consider Klaus, Jim, Nicky, Phil, Yoko, and you could make the kind of sound that could bring back the Balls in rock 'n' roll.

Both of us have been thru the same kind of shit/pain that I know you've had—and I know we could help each other in that area—but mainly Eric—I know I can bring out something great—in fact greater in you that had been so far evident in your music, I hope to bring out the same kind of greatness in all of us—which I know will happen if/when we get together. I'm not trying to pressure you in any way and would quite understand if you decide against joining us, we would still love and respect you. We're not asking you for your 'name,' I'm sure you know this—it's your mind we want!

Yoko and I are not interested in earning bread from public appearances, but neither do we expect the rest of the band (who mostly have families) to work for free—they/you must all be happy money wise as well—otherwise what's the use for them to join us. We don't ask you/them to ratify everything we believe politically—but we're certainly interested in "revolutionizing" the world thru music, we'd love to 'do' Russia, China, Hungary, Poland, etc.

A friend of ours just got back from Moscow, and the kids over there are really hip—they have all the latest sounds on tape from giant radios they have. 'Don't come without your guitar' was the message they sent there are millions of people in the East—who needed to be exposed to our kind of freedom/music. We can change the world—and have a ball at the same time.

We don't want to work under such pressure we feel dead on stage or have to pep ourselves up to live, maybe we could do 2 shows a week even, tentatively (nothing definite) goes like this:

I know we have to rehearse sometimes or other, I'm sick of going on and jamming every live session. I've also always wanted to go across the Pacific from the U.S. thru all those beautiful islands—across to Australia, New Zealand, Japan,–wherever, you know—Tahiti—Tonga—etc, so I came up with this.

How about a kind of 'Easy Rider' at sea. I mean we get EMI or some film co., to finance a big ship with 30 people aboard (including crew)—we take 8 track recording equipment with us (mine probably) movie equipment—and we rehearse on the way over—record if we want, play anywhere we fancy— say we film from L.A. to Tahiti, we stop there if we want—maybe have the film developed there—stay a week or as long as we want—collect the film (of course) we'll probably film wherever we stop (if we want) and edit it on board etc. (Having just finished a movie we made around our albums 'Imagine' & 'Fly'—it's a beautiful surreal film, very surreal, all music, only about two words spoken in the whole thing! We know we are ready to make a major movie). Anyway it's just a thought, we'd always stay as near to land as possible, and of course, we'd take doctors etc, in case of any kind of bother. We'd always be able to get to a place where someone could fly off if they've had enough. The whole trip could take 3-4-5-6 months, depending how we all felt—all families, children whatever are welcome etc. Please don't think you have to go alone with the boat trip, to be in the band. I just wanted to let you know everything we've been talking about. (I thought we'd really be ready to hit the road after such a healthy restful rehearsal.)

Anyway, there it is, if you want to talk more please call us, or even come over here to N. York. We're at the St. Regis, here til Nov. 30 at least (753-4500- ext/room 1701) all expenses paid of course! Or write. At least think about it, please don't be frightened, I understand paranoia, only too well, I think it could only do good for you, to work with people who love and respect you, and that's from all of us.

Lots of love to you both from, John & Yoko."

Copyright of the original owner
Eric did play on a Plastic Ono Band track after that Toronto concert and was also joined by Ringo Starr, playing on the creatively provocative 'Cold Turkey', a song about heroin addiction, an issue that John, Yoko and Eric all shared. Interestingly, 'Cold Turkey' was the first track to be solely credited to Lennon and not listed as a Lennon-McCartney collaboration.
Eric's Relationship with Paul and Ringo
Whilst Eric's relationship with all of the Beatles was considered good, it is believed that neither Paul McCartney nor Ringo Starr was in favour of him replacing George when it was briefly muted, but he did work with both of them on a Beatles track and later on their own solo projects.
In February 2003 Ringo Starr produced a tribute album to his great friend George Harrison after his tragic death from lung cancer just over a year before and immediately asked Eric Clapton to contribute to the album. Ringo asked him to participate because he only wanted people on the track that George knew and loved. As Ringo says himself 'George loved Eric and Eric loved George'.
Paul played one of George's most memorable songs, 'Something', at the concert organised in his memory by Eric, with the two of them collaborating in a performance of high emotion. The interactions between the two, including some of the looks towards each other, showed the respect between the two men, as well as their love for the departed George Harrison.
Eric Clapton and the Beatles are two of the most famous and influential artists of all time and their relationship has lasted for over 50 years, across 5 decades and multiple interactions. Whilst it was the friendship he maintained with George Harrison that was the most important to him, it is clear that the respect from all members of the details was there and reciprocated by Eric Clapton.
Summing Up
There is a lot of history between Eric Clapton and The Beatles but particularly with George.
The relationship between The Beatles began whilst The Yardbirds were supporting The Beatles at a gig in 1964.
Subsequently the musicians all became friends and when tensions in the studio were high, George Harrison, who was frustrated by the attitude of the rest of the band at the time, brought Eric to the sessions.
The result of this was a better working environment as the rest of the boys "behaved themselves".
Once, George didn't show up for some of the studio sessions and it was discussed whether he would need to be replaced and Eric was the first choice.
Eric did actually record with on the White Album and can be heard on While My Guitar Gently Weeps.
There was a strong relationship between George and Eric. At the time George was married to Pattie Boyd who Eric fell in love with and with the consent of George started dating her and eventually they married.
The relationship was particularly strong with John in later years with Eric collaborating on several projects. John was keen to work more with Eric and once wrote him an 8 page letter detailing his thoughts on the matter.
Even after the tragic death of George, Eric and the remaining Beatles still performed together and remain friends to this day.